Panel: Data Table¶
The Data Table panel shows multiple signals from an asset or assets in a tabular format. Configurable columns, allowing last reported as well as average, minimum and maximum across a variety of time frames.
Configuration options¶
Asset(s) signal to display (max 20)
Options to show:
Display Asset Name
Display Group Name
Display Signal Type (default on)
Display Signal Timeout Status (default on)
Display Signal Status (default on)
Display Signal Icon (default on)
Column Options:
Last Reported Timestamp (default enabled)
Last Value (default enabled)
Past Day Avg, Past Day Max, Past Day Min,
Past Week Avg, Past Week Max, Past Week Min,
Past Month Avg, Past Month Max, Past Month Min,
Past Quarter Avg, Past Quarter Max, Past Quarter Min,
Past Year Avg, Past Year Max, Past Year Min,
Rolling Day Avg, Rolling Day Max, Rolling Day Min,
Rolling Week Avg, Rolling Week Max, Rolling Week Min,
Rolling Month Avg, Rolling Month Max, Rolling Month Min,
Rolling Quarter Avg, Rolling Quarter Max, Rolling Quarter Min,
Rolling Year Avg, Rolling Year Max, Rolling Year Min.
Timeout Handling¶
This panel will show that a signal has timed out if the last reported timestamp is past the signal's timeout property and that 'Signal Timeout Status' option is enabled.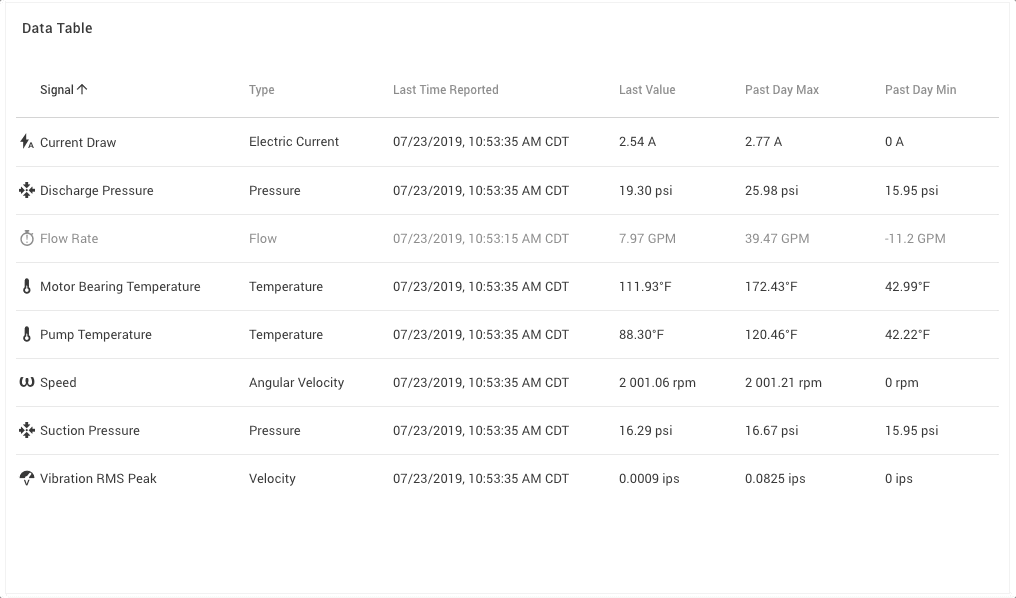 ---
Last update:
January 4, 2023