Exosite Overview¶
Exosite provides software for using IoT connected device data to provide value to your business. We do this in a way that is fast to get started, customize, and get connected data through our condition monitoring application ExoSense™ and our Murano™ IoT Platform. We also provide the ability to build and use the parts of the system like repeatable building blocks and enable partners to provide off-the-shelf connectivity through IoT Connectors and for analytics via Insights.

ExoSense Condition Monitoring¶
ExoSense is a browser based application and data pipeline hosted on our Murano platform. ExoSense is based around digital Assets representing your equipment, systems, vehicles, or sites. It's designed to be highly configurable to meet your application need, while providing tools and workflows to simplify setup and installation. It's highly configurable dashboards update realtime and provide visualizations for line charts, gauges, key indicators, and many more panels designed to give your users both quick glance status and deep-dive insight.
ExoSense provides companies with a complete application that can immediately begin to scale with users. Check out the ExoSense User Guide to learn about configuration, creating digital Assets, and building user / organization hierarchy.
Connect Device Data¶

Third-party hardware that is ready to use off the shelf can be found in the Exosite Marketplace.
If you do not have hardware yet or want a fast way to try out ExoSense, the ExoSense device simulator can be be added from Exchange. Note that most ExoSense template deploys will also deploy a simulator. The device simulator can simply send waveforms or you can upload csv data to mimic real world physical sensors and status information.
For companies building their own devices, create your own IoT Connector to begin connecting your own hardware using Exosite's Device API or through a Cloud to Cloud Device integration..
Insight Analytics¶
ExoSense has a native interface for building analytics, transformations, and rules. This is our ExoSense Insight schema and has allowed Exosite and partners to create plug-in ready services to handling streaming data for turning into valuable insight and status about your assets.
Custom insights can be created, both inline with the ExoSense pipeline and through an external interface for more complex processing.
Accounts¶
An Exosite account allows for administration of your Exosite software and provides access to the Exchange IoT Marketplace where you can get started by deploying ExoSense and begin using connected device data (actual hardware or simulated) to evaluate and then scale your new IoT solution.
Your account is where you will manage your organization's deployed ExoSense, Device IoT Connectors, Insights, and find additional services to take advantage of.
IoT Marketplace¶
Exosite's Exchange IoT Marketplace allows for deploying ExoSense solutions, including bundles from our partners. Exchange also contains hardware IoT Connectors and Insight services to add to your ExoSense instances.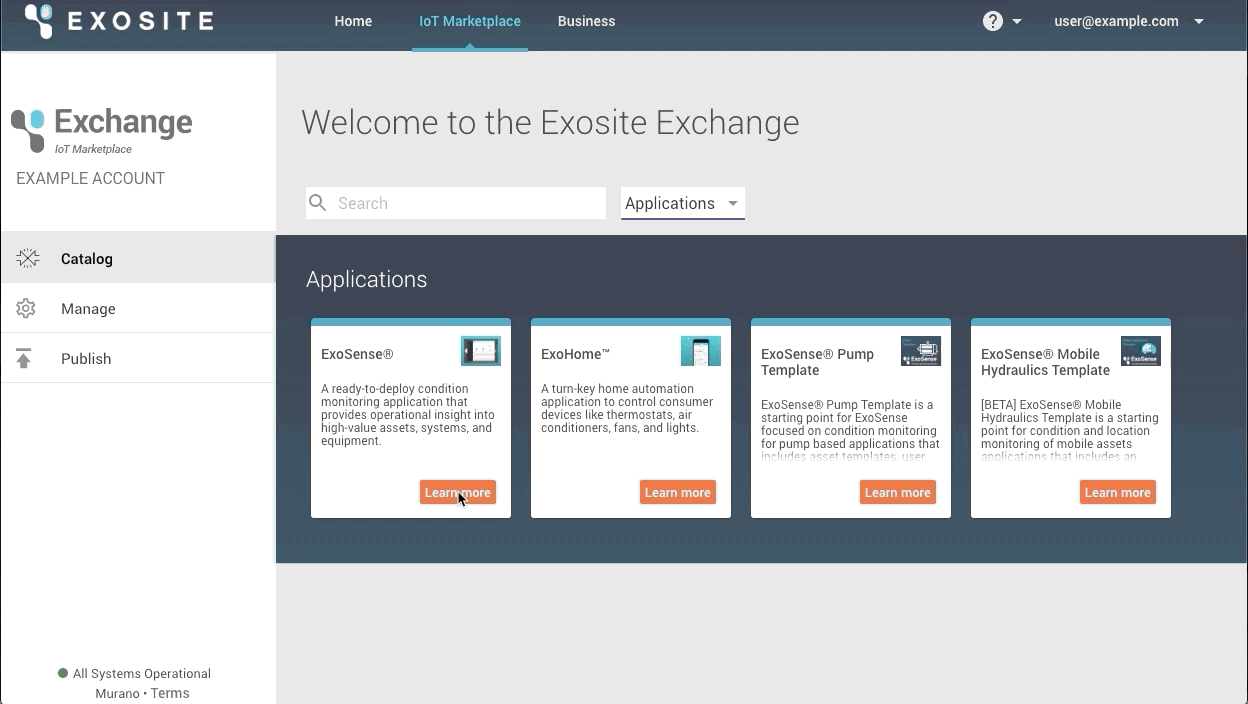 ExoHome Information
If you are interested in ExoHome®, please contact support.