Radio Bridge Connector¶
Prerequisites¶
Familiarize yourself with your Radio Bridge hardware by setting it up using Radio Bridge's getting started page and ensure Radio Bridge has an active connected device. Radio Bridge's "How to Connect Radio Bridge LoRaWAN Sensors" can be helpful.

Connecting RadioBridge and Exosite¶
Add the RadioBridge Product Template to your account¶
1.) Navigate to Murano and select "IoT Marketplace" in the top ribbon
2.) In IoT Connectors, find and select "RadioBridge Product Template"
3.) Click the "Add Product" button. This adds the template to your account.

Add RadioBridge as a new product¶
1.) Navigate to 'Solutions'->'+ New Solution'->'Add a product'
2.) Choose a name for your product, could be as simple as 'radiobridge', and select "RadioBridge Product Template" as the starting point.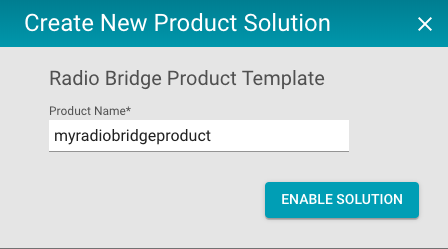 Connect RadioBridge Console to Murano¶
1.) In the endpoints tab of the product, copy the URL as shown below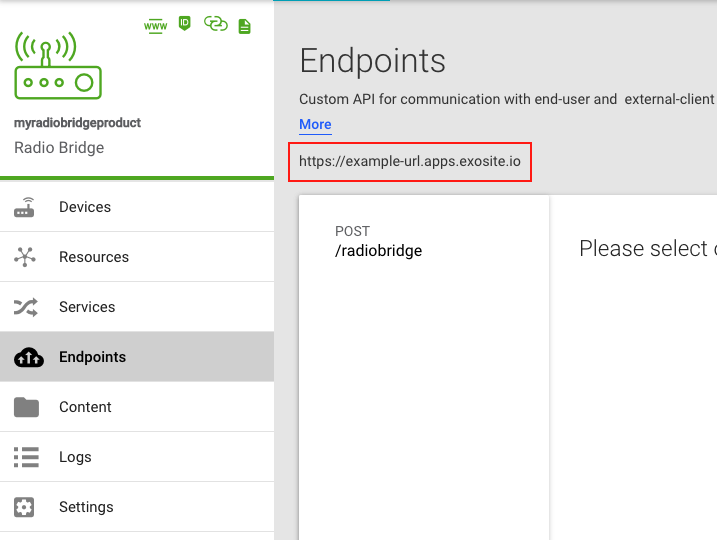 2.) Paste this URL into the API settings of console.radiobridge.com
3.) Append the URL with '/radiobridge'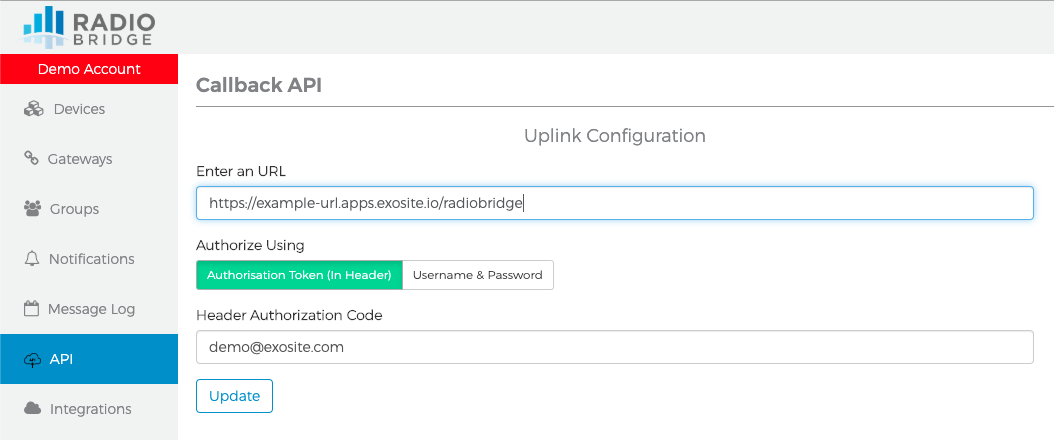 Add Device in ExoSense¶
Connect your device to ExoSense.
Once a message has been transmitted from the device, the device will appear in "Unclaimed Devices" in ExoSense
Supported RadioBridge Sensors¶
| TYPE | MODEL |
| --- | --- |
| DOOR/WINDOW SENSOR | RBS101-DWS-RCZ1 |
| DOOR/WINDOW SENSOR | RBS101-DWS-RCZ2 |
| DOOR/WINDOW SENSOR | RBS101-DWS-RCZ4 |
| DOOR/WINDOW SENSOR | RBS301-DWS-US |
| DOOR/WINDOW SENSOR | RBS301-DWS-EU |
| DOOR/WINDOW SENSOR | RBS301-DWS-AU |
| DOOR/WINDOW SENSOR | RBS106-DWS-RCZ2 |
| DOOR/WINDOW SENSOR | RBS306-DWS-US |
| ULTRASONIC LEVEL SENSOR | RBS101-US5M-RCZ1 |
| ULTRASONIC LEVEL SENSOR | RBS101-US5M-RCZ2 |
| ULTRASONIC LEVEL SENSOR | RBS101-US5M-RCZ4 |
| ULTRASONIC LEVEL SENSOR | RBS301-US5M-US |
| ULTRASONIC LEVEL SENSOR | RBS301-US5M-EU |
| ULTRASONIC LEVEL SENSOR | RBS301-US5M-AU |
| ULTRASONIC LEVEL SENSOR | RBS106-US5M-RCZ2 |
| ULTRASONIC LEVEL SENSOR | RBS306-US5M-US |
| WIRELESS CONTACT SENSOR | RBS101-CON-RCZ1 |
| WIRELESS CONTACT SENSOR | RBS101-CON-RCZ2 |
| WIRELESS CONTACT SENSOR | RBS101-CON-RCZ4 |
| WIRELESS CONTACT SENSOR | RBS301-CON-US |
| WIRELESS CONTACT SENSOR | RBS301-CON-EU |
| WIRELESS CONTACT SENSOR | RBS301-CON-AU |
| EXTERNAL PROBE TEMPERATURE SENSOR | RBS101-TEMP-EXT-RCZ1 |
| EXTERNAL PROBE TEMPERATURE SENSOR | RBS101-TEMP-EXT-RCZ2 |
| EXTERNAL PROBE TEMPERATURE SENSOR | RBS101-TEMP-EXT-RCZ4 |
| EXTERNAL PROBE TEMPERATURE SENSOR | RBS301-TEMP-EXT-US |
| EXTERNAL PROBE TEMPERATURE SENSOR | RBS301-TEMP-EXT-EU |
| EXTERNAL PROBE TEMPERATURE SENSOR | RBS301-TEMP-EXT-AU |
| EXTERNAL PROBE TEMPERATURE SENSOR | RBS106-TEMP-EXT-RCZ2 |
| EXTERNAL PROBE TEMPERATURE SENSOR | RBS306-TEMP-EXT-US |
| WATER SENSOR | RBS101-WAT-RCZ1 |
| WATER SENSOR | RBS101-WAT-RCZ2 |
| WATER SENSOR | RBS101-WAT-RCZ4 |
| WATER SENSOR | RBS301-WAT-US |
| WATER SENSOR | RBS301-WAT-EU |
| WATER SENSOR | RBS301-WAT-AU |
| WATER SENSOR | RBS106-WAT-RCZ2 |
| WATER SENSOR | RBS306-WAT-US |
| WATER SENSOR | RBS101-WRIM-RCZ1 |
| WATER SENSOR | RBS101-WRIM-RCZ2 |
| WATER SENSOR | RBS101-WRIM-RCZ4 |
| WATER SENSOR | RBS301-WRIM-US |
| WATER SENSOR | RBS301-WRIM-EU |
| WATER SENSOR | RBS301-WRIM-AU |
| WATER SENSOR | RBS306-WRIM-US |
| ACCELERATION SENSOR | RBS101-ABM-RCZ1 |
| ACCELERATION SENSOR | RBS101-ABM-RCZ2 |
| ACCELERATION SENSOR | RBS101-ABM-RCZ4 |
| ACCELERATION SENSOR | RBS301-ABM-US |
| ACCELERATION SENSOR | RBS301-ABM-EU |
| ACCELERATION SENSOR | RBS301-ABM-AU |
| ACCELERATION SENSOR | RBS306-ABM-US |
| VIBRATION SENSOR | RBS101-VS-RCZ1 |
| VIBRATION SENSOR | RBS101-VS-RCZ2 |
| VIBRATION SENSOR | RBS101-VS-RCZ4 |
| VIBRATION SENSOR | RBS301-VS-US |
| VIBRATION SENSOR | RBS301-VS-EU |
| VIBRATION SENSOR | RBS301-VS-AU |
| VIBRATION SENSOR | RBS106-VS-RCZ2 |
| VIBRATION SENSOR | RBS306-VS-US |
---
Last update:
April 7, 2021